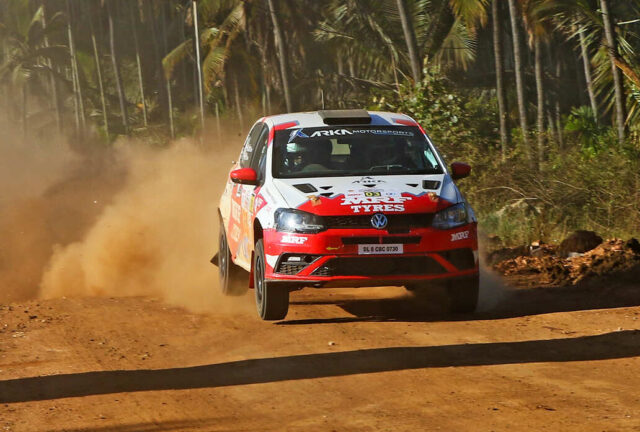 Tumakuru, December 4: The Bengaluru pair of Karna Kadur and co-driver Nikhil V Pai of Arka Motorsports clinched their maiden General Karnataka-1000 title by ending first within the Prasaditya forty sixth Karnataka-1000 Rally, a spherical of the Blueband FMSCI Indian Nationwide Rally Championship right here on Sunday regardless of struggling a heavy injury to their automotive after clipping a rock.
Ending second, over a minute behind Kadur was Mangaluru's Aroor Arjun Rao (co-driver Satish Rajagopal, Bengaluru) of Mandovi Racing whereas Delhi's Philippos Matthai (Harish Gowda, Bengaluru), who returned to rallying after a 13-year break, completed third General.
Matthai additionally took the honours in INRC 3 class whereas Virajpet's Suhem Kabeer (Jeeva Rathinam, Bengaluru) topped within the INRC 2 class. Additional down the grid, Chikkamagaluru's Aeman Ahmed (Sagar Mallappa, Bengaluru) of Ammyfied Racing gained within the INRC 4 class with Delhi's Arnav Singh Pratap (Arjun SSB, Bengaluru) of  SNAP Racing bagged the Junior INRC crown. Chandigarh's Samrat Yadav (Chandrashekar M, Bengaluru) of Ammyfied Rallying emerged champion within the Gypsy Problem, a non-championship class.
The 34-year outdated Kadur, who loved a snug lead after Leg-1 on Saturday, stored his wits about him after struggling some heavy injury to the sump guard in Sunday's second Stage when he clipped a rock. His mechanics carried out the mandatory repairs in 20 minutes flat through the service break which enabled Kadur to proceed and end the second loop with out a lot ado.
Reflecting on the weekend, Kadur mentioned: "It (the win) nonetheless hasn't sunk in, however I'm very blissful that we gained our first Ok-1000 Rally. We had a reasonably easy run yesterday, however this morning, we had a scare after we clipped a rock within the second Stage.
"The injury was fairly unhealthy within the entrance as a result of the sump guard acquired minimize. I managed to return again to service and the boys did an amazing job in finishing up the mandatory repairs, together with some slicing, chopping and welding, moreover fabricating and becoming a brand new sump guard, all in 20 minutes flat.
"We checked into parc ferme with simply 30 seconds to spare. All kudos to our staff who did an amazing job. Sure, a fairly emotional second. My dad (late Prakash Kadur) by no means gained a Ok-1000 Rally and so, I'm first within the household."
In the meantime, seven occasions Nationwide champion Gaurav Gill (Musa Sherif), who retired in Leg-1 with a drive-shaft challenge on Saturday, suffered one other setback after rejoining for Leg-2 right now with a damaged entrance proper knuckle resulting in his retirement within the day's second Stage after being the quickest within the first.
Provisional remaining classification
General / INRC
Karna Kadur /Nikhil Pai (Bengaluru, Arka Motorsports) (01hr,13mins, 56.5secs)
Aroor Arjun Rao (Mangaluru)/ Satish Rajagopal (Bengaluru, Mandovi Racing) (01:15:11.9)
Philippos Matthai (Delhi)/ Harish Gowda (Bengaluru, Arka Motorsports) (01:16:54.0)
INRC-2
Suhem Kabeer (Virajpet) / Jeeva Rathinam (Bengaluru, Pvt) (01:16:57.1)
Rahul Kanthraj / Vivek Y Bhatt (Bengaluru, Arka Motorsports) (01:17:28.5)
Harkrishan Wadia (Delhi) / Amber Udasi (Chandigarh, Arka Motorsports) (01:25.08)
INRC-3
Matthai  / Harish;
Maninder Singh Prince (Delhi) / Vinay Padmashali (Bengaluru, JK Rallying) (01:17:23.1);
Arnav Singh Pratap (Delhi) / Arjun SSB (Bengaluru, SNAP Racing) (01:19:51.7)
INRC-4
Aeman Ahmed (Chikkamagaluru) / Sagar Mallappa (Bengaluru, Ammyfied Racing) (01:28:11.4)
Rakshith Iyer (Mysuru) / Avinash CA (Bengaluru) (01:31:40.4);
Deepak Chandra / Raghuram CG (Bengaluru, DC Racing) (01:43.58.4)
Junior INRC
Arnav / Arjun;
Pragathi Gowda / Trisha Alonkar (Bengaluru, Arka Motorsports) (01:20:13.2)
Ajay Sankar (Kollam) / Rohit Gowda (Bengaluru) (01:21:24.1)
Gypsy Problem (Non-Championship)
Samrat Yadav (Chandigarh) / Chandrashekar M (Bengaluru, Ammyfied Rallying) (01:18:26.7)
Himanshu Arora (Delhi) / Vikram Thakur (Chandigarh, Ammyfied Rallying) (01:22:01.9)
Kariappa Mekerira (Kodagu) / Supreeth Sagar (Bengaluru, Ammyfied Rallying) (01:26:06.9)
All Ladies (Open)
Pragathi Gowda / Trisha Alonkar;
Shivani Pruthvi / Deepti Pruthvi (Davangere, Pvt) (01:24.16.6)
Nikeetaa Takkale (Pune) / Deeksha Balakrishna (Bengaluru)